Thank you Optics warehouse for you best wishes at the WRABF WORLD CHAMPIONSHIPS SOUTH AFRICA  and thank you for all the optics goodies in your parcel   Benchrest UK
.
WRABF WORLD CHAMPIONSHIPS SOUTH AFRICA KROKODILSPRUIT SHOOTING RANGE WILL BE STREAMED LIVE ON BENCHREST UK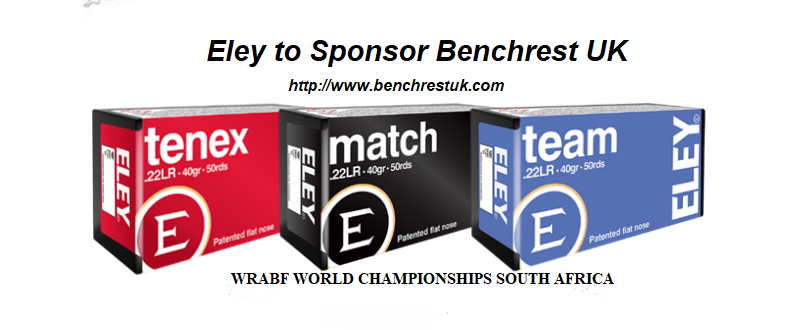 ELEY TO SPONSOR BENCHREST UK
"BENCHREST UK" are proud to announce that they will be sponsored by "ELEY" for the forthcoming "World Rimfire and Air Rifle Benchrest Champioships" to be held from 4th August to 15th August 2019 at the Krokodilspuit Shooting Range in Pretoria South Africa. Sponsorship is to include personal batch testing of "Eley Tenex" along with a generous amount of the chosen rounds to use in the competition. As we are a team of eleven this is not an insignificant amount. On top of this we will have "ELEY" Polo Shirts, Caps and other such merchandise to fly the flag for ELEY and the UK. We would like to take this opportunity to especially thank David Barton and Michael Atkinson along with the other members of the "Eley" team for their support. Adrian Hasell President "Benchrest UK".
NEWS FROM THE WRABF CLICK TO READ
Entry forms can be downloaded from the Events Page
Benchrest uk Buy & Sell
now up and running and its free sell you unwanted gun items