COVID 19 PLEASE READ / POSTALS Following a on line meeting at which the Benchrest UK committee discussed the current situation with regards to Covid and shooting.We are all fully aware of the effect Covid is having on the country and the shooting community with range access being virtually zero, with this in mind we have decide to take what is probably the best long term approach with regards to our postal competitions. 1) That we honour the current  postal competition where people have been able to complete their cards, submitted their scores and where there are more than three competitors medals will be awarded. (when able to do so) 2) We will prepare as best we can to offer a full series of postal competitions to commence as quickly as possible after lockdown regulations are relaxed and ranges have full and uninhibited usage. Common sense prevailing. 3) When we are able and it is safe to do so we will hold shoulder to shoulder competitions at ranges that can accommodate safe usage. These competitions will be held with strict adherence to current regulations at that time "Our Members Safety Is Paramount" We apologies for not being more specific with timescales but rest assured we are determined to "Carry on Shooting" Your patience is greatly appreciated.
Dear Benchrest UK Member.This is just a reminder to say that your Benchrest UK membership for the 20/21 year is up for renewal and is due on the 1st November 2020. This year due to the Covid 19 situation it's been hard for us to run any side by side shoots but we are still running our Postal competitions for those able to participate and gearing up for 2021 which will hopefully be a better year. We have discounted our membership for the coming year to take this into consideration. Membership from now until November 2021 will be £10 + an additional charge of £1 to cover PayPal costs this can be paid via PayPal in the website store LINK – https://www.benchrestuk.com/?page_id=735. Please leave your name and membership number in the notes section.There is no need to fill out the membership form again Confirmation of payment will be sent.With thanks Sonia Membership Secretary
BENCHREST UK AIR AND RIMFIRE SHOOTING (1) BENCHREST UK AIR AND RIMFIRE SHOOTINGBENCHREST UK VIRTUAL AIR SHOOT OCTOBER 10th TO 11th THE DETAILS / RULES UPDATEDBenchrest UK have decided to run a virtual Air rifle open shoot. This is for just for fun and there are no entry feesCovid 19 has wreaked havoc on our planned competitions this year and many of our competitions have been cancelled due to the clubs not being able to open….The idea behind this fun open shoot is to get people shooting again while still adhering to social distancing CLICK HERE FOR RULES
Benchrest UK Members Please Read euro & World Championship Canceled Click Here For More Info
Minutes of Bench Rest UK committee special meeting (Via MST) CLICK HERE 7th July
COVID-19 To All Benchrest UK Shooters In the light of government advice on the reopening and use of some sporting facilities "Benchrest UK" is looking to resume albeit in a limited form benchrest shooting from the first week in June. However as we are a National Organisation and are totally reliant on your local club its committee and members you will be expected to abide by all rules and guidelines layed down by those individual clubs. We will continue taking guidance and advice from the government and will update members as and when circumstances change and we are hoping to hold competitions in the not too distant future.
In the meantime "Stay Safe"
Read Benchrest Shooter For Free under Free Downloads on this webpage
COVID-19 To All Benchrest UK Shooters With very great regret, we announce the postponement of the Benchrest UK Glevum Shoot. The government has announced emergency measures that will come into force tomorrow and last at least until April 19. We do not wish to put our members at risk and will update you in due course.
TO ALL BENCHREST UK MEMBERS. THANK YOU ALL FOR TAKING PART IN THE 2019 – 2020 POSTAL COMPETITIONS AND WELL DONE TO ALL THE MEDAL WINNERS. MEDALS WILL BE AWARDED AT THE BENCHREST UK GLEVUM 0PEN SHOOT IN GLOUCESTERSHIRE IN APRIL SO LOOK FORWARD TO SEEING YOU ALL THERE. BENCHREST UK COMMITTEE

To all Benchrest UK postal shooters 2019 – 2020 season. Please can you bring cards 5 and 9 from all the competitions that you have shot so that scoring can be verified These cards can be brought to the Brass Monkey in March either in person or by a club mate. Alternatively email Kathie at ([email protected]) for details of where to post your cards to with thanks Benchrest uk Committe
Benchrest UK Open Shoot Glevum Target and Sports Club 17th 18th 19th April 2020
To All Shooters Portishead Shooting Club will be holding their annual Brass Monkey Open Benchrest Shoot 6th/7th/8th March entry form will be on the webpage soon
Benchrest UK would like to thank Peter Kilpin for Running the Postal last year he is now stepping down I would be grateful if you could send all remaining scores to Kathie Knowles by email, [email protected] as soon as possible. We will close out the 2019/2020 round on the 14th February. Details of the next round of the postal competition will follow in the near future .Thank you Peter Kilpin for all your work over the last year, god save the Queen LOL ( Kathie Knowles )😂😂
The World Rimfire & Air Rifle Benchrest Federation 4th World Cup will be held in Plzen Czech Republic 2021. CLICK TO SEE
Please Note To All Benchrest uk Members if you have not sent me or Richard / Adrian Hasell your name / adress and picture for your membership Badge you will not recive it in November if not you can email them to me at [email protected] thanks Graham
Benchrest UK National Open Shoot at Glevum Target Gloucestershire And Sports Club on the 22nd 23rd 24th November 2019 All Welcome. Entrance form will be available from monday 2nd September
CLICK TO WATCH The Ledgend that is Ron Ronald J Harding acknowledged by his fellow Bechrest shooters at the WRABF ceremony in South Africa 2019
NEW WRABF COMMITTEE Congratulations to the new WRABF Executive Committee officers:
President Flávio Vieira Gonçalves (South America) Vice President Pavel Cink (Europe) Secretary Nicolaas Schoonwinkel (Africa) Treasurer Greg Schneider (Australia) Member Ulla Murisoja (Europe) Member Gene Manalastas (Asia) Member Giovanni Atzeni (Europe) Member Craig Young (North America) PRO Richard Collins (Europe) Sub Committee on Rules Chairman Stuart Elliot (Australia) Adviser to the Executive Committee: Bill Collaros (Australia) Richard Fernandez (Asia)
Congratulations to our very own Benchrest UK Committee member Richard Colins
WRABF WORLD CHAMPIONSHIPS SOUTH AFRICA KROKODILSPRUIT SHOOTING RANGE SQUAD POSITIONS CLICK HERE

Thank you Optics warehouse for you best wishes at the WRABF WORLD CHAMPIONSHIPS SOUTH AFRICA and thank you for all the optics goodies in your parcel Benchrest UK
.
WRABF WORLD CHAMPIONSHIPS SOUTH AFRICA KROKODILSPRUIT SHOOTING RANGE WILL BE STREAMED LIVE ON BENCHREST UK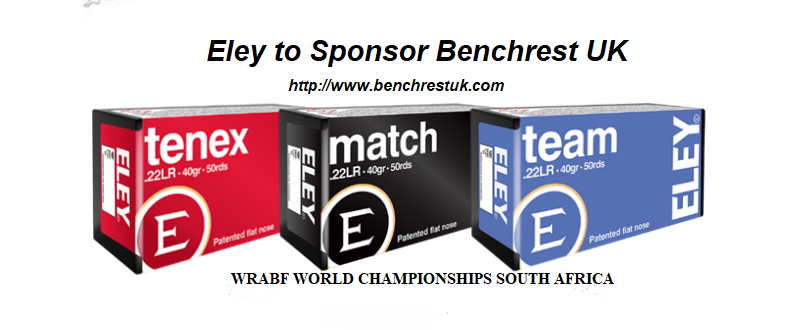 ELEY TO SPONSOR BENCHREST UK
"BENCHREST UK" are proud to announce that they will be sponsored by "ELEY" for the forthcoming "World Rimfire and Air Rifle Benchrest Champioships" to be held from 4th August to 15th August 2019 at the Krokodilspuit Shooting Range in Pretoria South Africa. Sponsorship is to include personal batch testing of "Eley Tenex" along with a generous amount of the chosen rounds to use in the competition. As we are a team of eleven this is not an insignificant amount. On top of this we will have "ELEY" Polo Shirts, Caps and other such merchandise to fly the flag for ELEY and the UK. We would like to take this opportunity to especially thank David Barton and Michael Atkinson along with the other members of the "Eley" team for their support. Adrian Hasell President "Benchrest UK".
NEWS FROM THE WRABF CLICK TO READ
Entry forms can be downloaded from the Events Page
Benchrest uk Buy & Sell
now up and running and its free sell you unwanted gun items